5 Ways to Utilise Social Proof to Increase eCommerce Conversion Rates
The more digital and impersonal things get, customers begin to rely more on other people. Seeing an impersonal product description never sells a product as efficiently as the five-star review with extensive customer feedback at the bottom of the page. Moreover, studies show that e-commerce reviews with photos attached are more than eighty per cent […]
The more digital and impersonal things get, customers begin to rely more on other people. Seeing an impersonal product description never sells a product as efficiently as the five-star review with extensive customer feedback at the bottom of the page.
Moreover, studies show that e-commerce reviews with photos attached are more than eighty per cent trusted by the majority of customers. This particular study was conducted by Bright Local, and you can read the results here. They are also visible in the image below.
Following the data, 27 % always read reviews, 22 % do that regularly and 37 % occasionally, leaving only 14% of people who don't read reviews.
But social proof is much more than reviews and customer feedback and can be used to any business's advantage, regardless of the niche it operates in. Let's see what methods your website might use to increase conversion rates.
1. Customer Reviews are a simple yet effective way to boost CRO
As we already mentioned above, customer reviews are one of the simplest social proof methods, yet they are one of the most effective as well. If you still haven't installed the option for your clients to leave customer reviews, stop reading, and do it now.
Then come back and read why. It is that important.
Favouriting a product
There are also other forms of non-verbal reviews similar to Facebook's "Likes, and Shares" or "Favouriting a product". Adding a heart symbol and letting people favourite a product also boosts the authority of the product in the potential client's eyes.
How do you get more reviews?
1. Offer Discounts. You can invite people to leave you genuine reviews in exchange for a discount coupon for the next purchase, which you can send them along with the "Thank You for purchasing" email.
2. Offer free gifts. Moreover, if your product is something like an audiobook or an e-book, you can let people access it for free if they are willing to leave you a genuine review after reading or listening to it.
3. Increase Organic Review Count. Of course, some people would just become fans of your product and would organically leave you reviews. But in order to increase that number, you need to satisfy the clients with a positive customer experience. Moreover, placing the review section (if it's your website we are talking about) in a visible spot, would also increase the number of reviews that you are getting.
Avoiding negative reviews
Negative reviews could also bring in value in some cases. If your product is cheaper, and your target audience actually knows that for a certain price they can't get all the best quality in the product.
For example, when purchasing a product that costs $90 instead of an industry average of $500, you expect it to have some flaws, limited functionality or to lack certain features that more expensive products offer. A cheaper product could have a counter argumentative selling point like:
Limited functionality
Effective only in a certain way (Niche use.)
Poor materials
Lower battery time (for technology)
Non-impressive design
Sometimes people don't want these features at all, and despite having the cash to spend on an expensive product, they opt for the cheaper one. By being straightforward, emphasize your product's strengths but let them know if it lacks something they obviously expect from it. This way, you could evade some negative reviews and attract customers who don't care about the battery life of their boombox, if they can save $400.
Negative reviews can be in your favour
If you miss mentioning something important, negative reviews such as "X product lacks Y feature" will pile up on your e-Commerce page, and other clients will see them. And if you have accurately targeted your audience, they might end up purchasing the product in case the price is lower than the competition, since they didn't want the Y feature after all. But this is a very peculiar case and doesn't work with averagely priced or higher priced products.
If you have the opportunity, answer negative reviews in a comment, and explain why the issue isn't relevant if that is the case. Many hotels and accommodations even go as far as offering free beds and extra features to their guests in order to eliminate negative reviews. Go the extra mile.
Aside from user reviews and adding a product to favourites, there are other metrics that you can use as social proof.
2. How to Use General Metrics as social proof

If people haven't heard of you or your brand before, they are less likely to trust you. But numbers and statistics are one thing that easily changes people's opinion.
These can come in the combination of:
Sales Numbers, Customer Numbers, Followers, etc.
Text, Story
Trust Icons,
Recognisable Brand Names and Logos of businesses that you partner with, or are your clients (In case you are B2B orientated)
Anything that gives your business authority. (e.g "The first brand do develop XYZ product")
Use your strong sides
Have you gotten a killer testimonial from an important client that seems to resonate well with your audience? (Is very close to your targetted persona.)
If so, stick it somewhere visible on your website. Depending on your business, the secondary social proof data can vary greatly. Some services are subscription-based, while most products have purchase numbers.
On the other hand, both of these examples can convert subscription numbers and purchase numbers into a sentence like "100,000 customers trusted us in 2021."
Secondary social proof data, like local partners, subscriptions, or social media followers can be placed in the footer, above or below a call to action button as a last resort of hooking people to sign up.
3. "Other people also purchased"
Product recommendations are a cross-selling technique that has existed for a long time. Regardless, it is one of the most effective approaches to squeeze in an extra profit from your customers.
In the image above, Beer Hawke, a beer offering website, offers gift sets to a person, who has recently added to the cart a cheaper gift set. This is a disguised form of upselling.
Once someone has already made the leap and has bought one of your products, they become much easier to convince in making a secondary purchase.
And since people trust the reviews of online peers, they also trust the purchases others have made in the same category or in relevant niches. This product recommendation technique can be disguised in the form of:
Complementary Bundles
Email Recommendations
"Other people also purchased"
Frequently purchased together sets
Discount if you purchase together
Similar cross-selling or up-selling techniques always work best when paired with a sense of urgency or expiring promotion that makes the client feel under pressure to act immediately.
4. Create and Abuse the Sense of Urgency
There are certainly many creative ways of creating urgency in marketing and sales. You usually get this feeling of urgency most often from commonly used phrases like:
Buy now, Only 20 pcs left in stock.
Last chance to make a reservation. Places are running out.
The price would increase by 10 per cent in 1 hour.
Discount ends in (insert timer here).
And although everyone knows that this is a simple market trick, it keeps on working. Why? Because people have a fear of missing out (FOMO).
What if, prices really do increase after these 3 hours? The clients would have missed a golden opportunity. And that's why we fall for such tricks.
Moreover, if someone is your loyal customer, and has really seen the price increase being real after the timer, they are more likely to purchase.
What are the most common ways to trigger that urgency in customers?
#1. Deadline Timers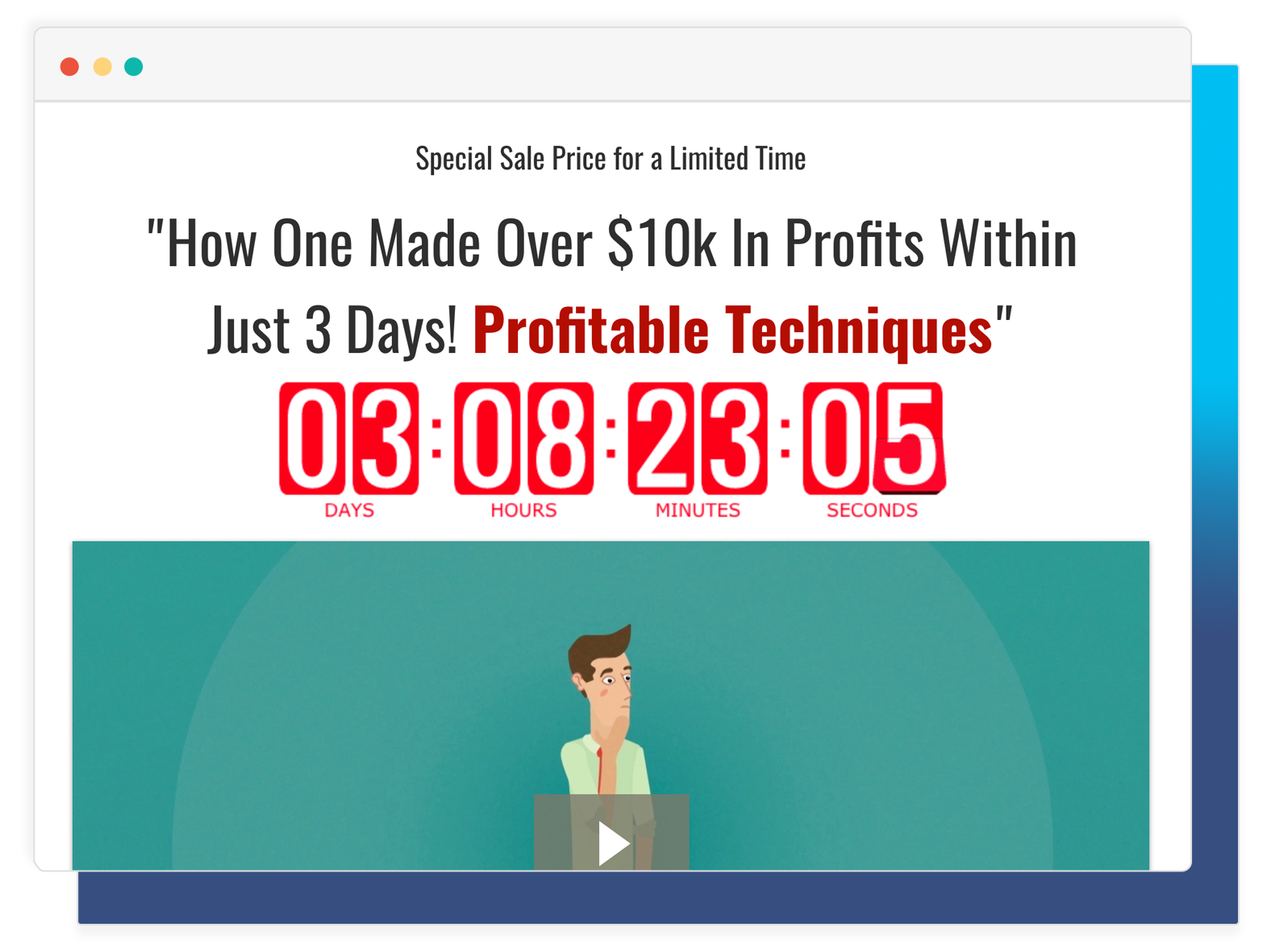 Deadline timers can be a very useful tool in the right hands. They should be used mainly for emotional purchases. Are you selling a course on how to get rich? Then make sure to inspire the individual, before they reach the sale page with the deadline timer.
Give them an important piece of information and use it as a hook.
The main strengths of a similar timer are:
They create dynamic urgency. With ever-changing hours or minutes display, your visitors can experience the urgency more than once if they repeat their visit. (While if your text only says "The sale is ending this Friday.", they don't know when exactly, and don't feel the ticking bomb of missing out.)
You can offer bonuses, aside from discounts. Free shipping if you order within 2hours or a discount code for a later purchase.
#2 Scarcity creates urgency
Regardless of whether there are 300 or 3000 items left in stock, let your customers know that there are 30 pieces available and that 3-4 people are browsing through this exact product page right now.
Have you wondered why crazy art pieces, antiques and collectibles sell so quickly and at insanely high prices? Well, they are one of a kind. The fewer pieces you claim to offer, the quicker people would buy them.
Sometimes you can combine scarcity with a discount timer. These two work together amazingly well.
#3 Create problems for your users and offer them a solution
We've heard a thousand times over that your products and services should solve the problems of your customers. While this is accurate, you can take it one step further and create a problem within the problem yourself.
Imagine there's this workshop that you've been advertising for ages and your userbase is really hyped up about. But some of the users are going to rely on your YouTube channel to post free content. Why not urge them to join the workshop or course by sharing a message like:
There are many copywriting techniques one could use in order to inspire potential customers to make a purchase. There are frameworks like AIDA (Attention, Interest, Desire, Action), PAS (Problem, Agitate, and Solve), and many others that can do the trick.
The PAS is very close to what we saw above in the image, only on a larger scale.
There are many other ways to create urgency and underline problems that you can easily solve, but we will cover this in another article.
5. Using Influencer Endorsements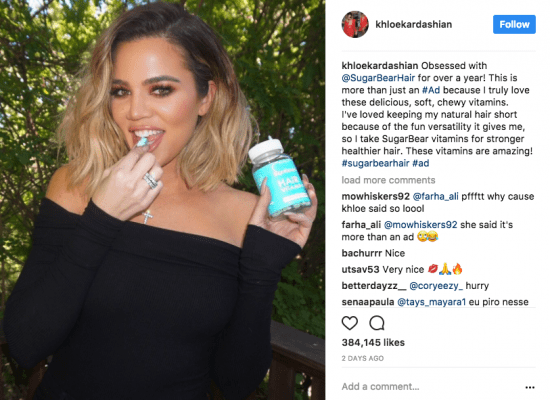 It is very difficult and sometimes impossible for a fresh brand to reach out to the best possible influencer in the field and get their attention. On the other hand, there are many smaller ones that would be glad to help in exchange for a small profit as a referral, or as cash per 24 hours post in advance.
It is very unlikely that a successful influencer would agree to promote your product for free or just for a sample, but there are also cases of this happening. Smaller influencers would most often agree to do it, only for the exchange of a free sample.
Before you start, make sure to choose influencers that have a common audience with your target group.
In the image above, a famous influencer is endorsing a brand. Not will only the brand get more clicks, purchases and authority, but by being mentioned, some of the users would also become followers.
How to reach out to influencers for promotion
Make a list of influencers in a spreadsheet. All of them should have a following that is likely to purchase your product. Don't reach out to influencers whose following mainly consists of teenagers if you are promoting a STIHL chainsaw or mechanical tools.
Once you have the spreadsheet, order the influencers by the number of followers they have.
Create a framework of a post that resonates with their audiences. (Influencers would rarely write the posts themselves. So have one prepared for them.)
Send them personalized messages, and ask how much would they want to post the very specific message.
Make a list of all the prices and decide which ones to go with.
As mentioned above, for some smaller influencers, you can just send them a sample of the product. By having the number of followers, you can decide how to tailor your offers to specific influencers and which of their offers and prices to accept for a better return on investment.
Conclusion
Some testimonials and social proof are organic and free, while influencer endorsements might be a costly investment. Regardless of what you go for, a combination of all the methods mentioned above usually works best.
Study your audience and learn from your successful and failed promotions. Products and services might be different but people usually fall for the same tricks when urgency is created and purchasing pressure is in the air. Good luck on your CRO journey.
More from our blog