Tips and Tricks on Getting Quality Backlinks
With each year ranking your website higher and competing with SEO gets harder and harder. There are thousands of strategies out there that you could choose to follow, but most often not specializing in any of them leads to poor results. Building Quality backlinks is a concept that is fairly easy to get a good […]
With each year ranking your website higher and competing with SEO gets harder and harder. There are thousands of strategies out there that you could choose to follow, but most often not specializing in any of them leads to poor results.
Building Quality backlinks is a concept that is fairly easy to get a good grasp of regardless of your professional background. Yet it is one of the most cost-efficient ways of improving your website's authority. Let's see what an effective step-by-step process of building quality backlinks looks like.
What are the benefits of Quality Backlinks for your website?
When talking about SEO, you can optimise your meta descriptions, you can increase the likelihood of your images being found in search, you can stuff keywords in URLs, take advantage of internal linking, improve your page speed and you can literally do hundreds of other tricks in order to rank higher.
Although all of these need to be done to net you some success, focusing on one at a time after having sketched the beginnings of your search engine optimisation is recommendable. Each of these brings different advantages to your website. Knowing which to focus on is crucial. The most important benefits of building quality backlinks are:
Your website gets indexed faster. In order to get discovered in a search engine, regardless of it being Google, Bing, or DuckDuckGo, your website must be found by a Search engine bot in order to get crawled. This happens via backlinks. If you have none, your website is unlikely to get discovered and crawled. The sooner you get indexed, the sooner your website is going to get organic traffic coming in.
You will get referral traffic. Has it happened to you to read an article that links to other articles and topics that you are interested in, but they lead to an outer website, and not to the one you were currently on? Relevant backlinks sometimes bring warm or interesting traffic, if they'd been properly put in the right place.
Backlinks improve organic rankings. When analyzing a certain niche with the help of tools like SEMrush, you always notice the top results always have hundreds if not thousands of backlinks. Not only do backlinks yield a higher authority to your website, they also lead to extra traffic. These two together mean that your website would naturally be ranking higher on search engines.
You can get an unexpected partnership. By reaching out to businesses for backlinks, you can end up striking an unexpected partnership with one of them. As funny as it sounds, this is something that happens quite often.
If that seems like enough reason to start building quality backlinks for your website, let's see what the optimised process looks like.
How to build quality backlinks for your website?
First of all, backlinks can differ greatly from one another. One thing is a Wikipedia backlink, another is a backlink coming from a catalogue of random websites, where you can list your website among millions of other webpages. While both have their advantages, the difference is obvious.
Another great example is backlinks from relevant blogs. Let's say your website's blog is focused on the automobile industry. It only makes sense that you reach out to other automobile blogs and ask for backlinks to your content. Let's see how this process looks like.
#1 Research relevant content
As we mentioned above, it's much more likely for someone to click on the link if it is placed in the right place for the right audience to grab. You can't expect a website focused on beauty cosmetics to agree and promote your automobile backlinks, and even more absurd is the idea that someone from their audience would click on that link.
Keywords
Another thing to pay attention to is keywords. If you are promoting a product or a service, do a little research on what types of people would initially be interested in the thing you offer. Are you offering software that facilitates YouTube creators? For example, an audio editing software, that cuts the lapses between words?
What Different backlinks are there?
The backlinks you build can be backlinks to your homepage or to a specific blog or product that you are looking to promote. If it's a product, most often these are affiliate backlinks and are fairly easy to get if you offer a percentage for the people promoting your products.
Homepage backlinks are also not hard to get since you can place them on a much broader spectrum of websites. It is much easier to find a website that focuses on automobiles in general than a blog about 1990s BMWs.
For this same reason, finding great matching posts to build a link to a specific blog post of yours is not as easy as it sounds.
Contextual Linking
Although keywords are important, turning them into keyword phrases is the real trick here. If you only use separate keywords to locate the articles you think might be a good match, you might end up finding articles that are too broad, especially if you want to promote your very specific blog posts.
Come up with key phrases that can lead to your article in a contextual manner. For example, are you offering a detergent product that cleans floors? If so, then check out "The best detergents to clear your floor with", "Floor detergents", "Alternatives to moping", and other relevant keywords you can expand on.
Of course, this process should be based on the initial keyword research you made.
Figure out a target audience
Then, within your target audience, you can find YouTube Creators, podcast hosts, Audiobook automation users, and anything related that you can think of. Then, the next thing to do is to go around looking for blog post guides on topics these users would be interested in. Even better if a link to your software would look natural there.
Most of your links, especially in blogs, should look natural. Continuing on the automobile website example, let's say you want to create a backlink for your "Quickest BMWs from the 1990s", then go ahead and look for a content creator that has an existing article that is similar to this one.
Build a list
Once you've come up with enough keywords and key phrases, go paste them in a sheet and it's time to start researching domain authority rating or DR of possible websites that could link back to our desired homepage or specific blog page.
There are a bunch of tools here that you could use, with the most common choice being ahrefs's content explorer tool. Once you go there, make sure to use the DR filter.
Domain Rating
The lower the Domain rating, the easier it should be for you to get the approval of the website to get your link up and running. On the other hand, the higher ones are much more valuable to you and your business. On a general note, a dozen links rated around 50 should be better on paper than a link boasting a domain rating around 75.
Once you've got a list (Let's make them 100+) and have all the websites and links written down in sheets, how do you approach these people and ask them to list your backlink? This is the interesting part.
#2 Asking for permission
In the busy world of today, nobody likes doing anything for free. Here comes the question, why would anyone agree to give you a backlink to your website? Unique selling points or USP can be used in almost any proposition there is. Even when you aren't actually selling anything. So figure out what your prospect might want, and offer them what you can afford to give in exchange for what you want.
You need to be very clear about that part in your email outreach. Let the people know what they are going to get in return. These can be:
Free coupon codes for your product/service.
Discounts
Offering exchange of backlinks. (You incorporating backlinks of their website on yours.)
Promoting their content on social media. (If you have a following.)
Testimonials, social proof, partnerships.
Hopefully, you get the idea. Once you've established this key selling point to convincing someone of posting your link, then the next step is to actually find the contact of the people you want to reach out to. This is arguably the most time-consuming part of the entire process.
Backlink building tools
Such tools can greatly facilitate your process, especially the part where you have to look for emails and contact people. Some of the most effective ones are Respona, Ahrefs, SemRush, BuzzStream, JustReachOut, and NinjaOutreach, but you can do the research here and find out for yourself.
Regardless of what tool you pick, don't let it run on autopilot, since there are some articles that have to be removed from being contacted.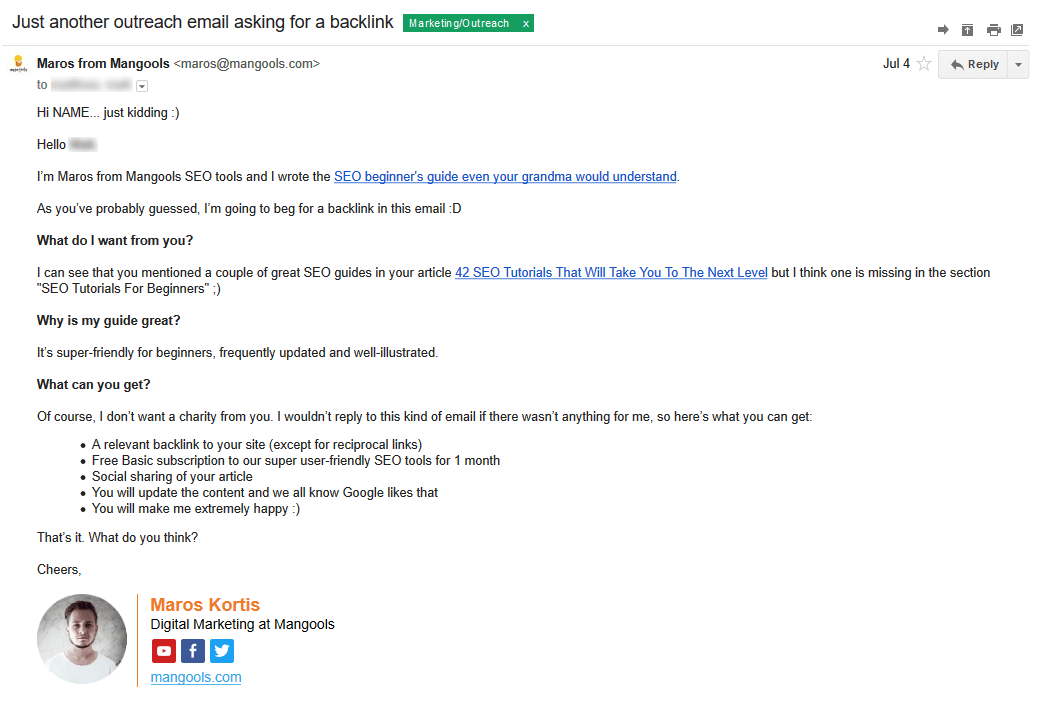 This is a good example of the features that your email should include. What matters most is stating a very clear ask and a clear reward for the reader, if they agree to accept your ask.
And while Maros here is using Gmail for writing his email, there are other alternatives that offer you a chance to do the same thing in bulk. We mentioned those above in the article.
How people respond
More often than not, people would ask for a payment. It is your own business whether you choose to comply here or not, but frankly, we haven't ever paid for a backlink.
If you get a positive response from the recipient, make sure to make their lives as easier as possible. Provide them with an image, an anchor text, whatever they need, in order to get your backlink up and running on the very same day with zero effort.
Offering links in return
It is widely known that Google doesn't exactly like or tolerate exchanging backlinks. The more natural and non-forced things feel in the eyes of Google, the better.
But that doesn't mean you can't exchange a backlink if you have a secondary website. You can always offer that in exchange. And it won't trouble google's algorithm in any way.
Conclusion
Backlinks are a time-consuming, yet not very technically demanding way to greatly increase your website's authority and search engine ranking. Moreover, figuring out the right blog posts to promote your website via backlinks brings in additional organic traffic which can often result in conversions.
Make sure that you polish your email outreach process when asking for backlinks. Always demand a clear ask and structure your email so that the recipient can see what they are going to get in return for accepting your asks.
More from our blog